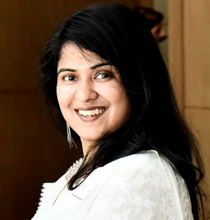 Dr. Sreya Chattopadhyay
---
Dr. Sreya Chattopadhyay is currently running her own company bizinnovision innovation with futuristic vision and she is the director of financial fabric. she is also principal advisor of BDS education She is also a keen social worker. Since the time she did her doctoral research work on study of a Sustainable Business Model for Implementation of e-Healthcare system in Rural India, she is continuously working in that direction.

She has already presented her research work in this field at different national and international conferences in India and the US.

She has helped organisations in digital transformation and Digital Marketing.

Her aim is to make better use of ICT in healthcare sector in a very effective and efficient way and thereby, help the doctors to extend their reach even being geographically apart. Her objective is to develop effective and low cost e-Healthcare system, which can be used even in case of emergency and thus help to ease a doctor's job as well.