Acute Care + Preventive Care = Critical Care
Definition of Critical care :
When searching for the existing definition of critical care, we see the ambiguity in the expression of the term critical care, alongside the lack of an actual definition but abundance of explanations of the term critical care itself.
• The specialized care of patients whose conditions are life-threatening and who require comprehensive care and constant monitoring, usually in intensive care units. Also known as intensive care.
• The care of seriously ill patients in a special hospital unit
• Intensive care is needed if someone is seriously ill and requires intensive treatment and close monitoring, or if they're having surgery and intensive care can help them recover. Intensive care unit (ICUs) are specialist hospital wards that provide treatment and monitoring for people who are very ill. They're staffed with specially trained healthcare NGO in india professionals and contain sophisticated monitoring equipment. ICUs are also sometimes called critical care unit (CCUs) or intensive therapy units (ITUs).
• Continuous monitoring and treatment of seriously ill patients using special medical equipment and services
However, if we see the above definitions, it is very easy to see that critical care nursing, at present, is being explained or defined on the basis of the location of provision of the health services, rather than on the nature of the illness or condition of the patient, or the kind of treatment provided.
In order to change the present outlook and to provide a Critical Care definition that reflects the nature of the treatment that it provides, we express the term critical care as:
Acute care as a part of Critical Care:
A WHO study has acute care definition as:
a) Treatment of individuals with acute surgical needs, such as life-threatening injuries, acute appendicitis or strangulated hernias.
b) Treatment of individuals with acute life- or limb-threatening medical and potentially surgical needs, such as acute myocardial infarctions or acute cerebrovascular accidents, or evaluation of patients with abdominal pain.
c) Ambulatory care in a facility delivering medical care outside a hospital emergency department, usually on an unscheduled, walk-in basis. Examples include evaluation of an injured ankle or fever in a child.
d) Treatment of individuals with acute needs before delivery of definitive treatment. Examples include administering intravenous fluids to a critically injured patient before transfer to an operating room.
e) Care provided in the community until the patient arrives at a formal healthcare facility capable of giving definitive care. Examples include delivery of care by ambulance personnel or evaluation of acute care health problems by local healthcare providers. The specialized care of patients whose conditions are life-threatening and who require comprehensive care and constant monitoring, usually in intensive care units (ICU). Examples are patients with severe respiratory problems requiring endotracheal intubation and patients with seizures caused by cerebral malaria.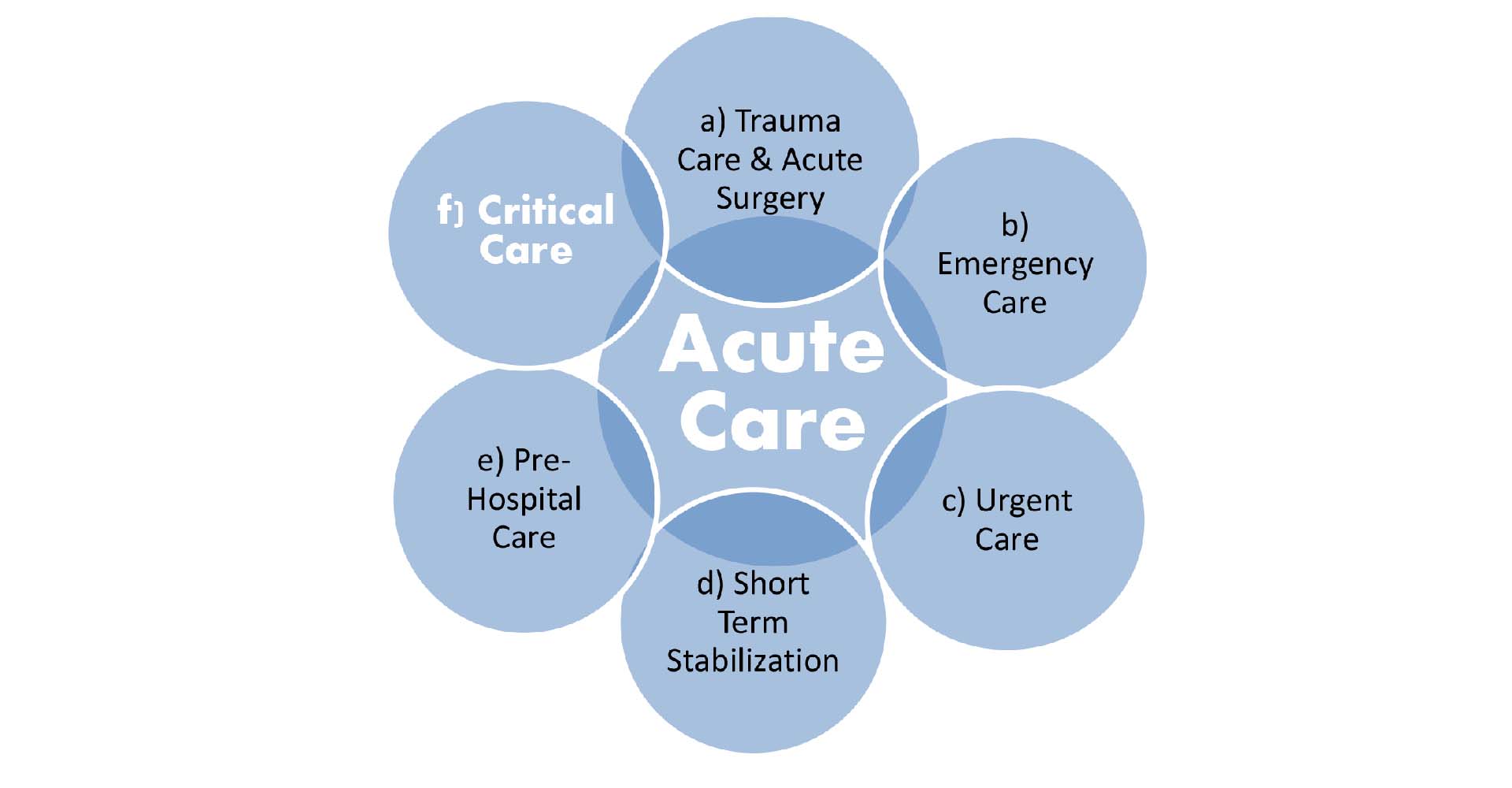 Hence it is easy to see that acute medical care is very naturally a part of critical care, but the nature of care may vary depending on the basis of the kind of disease/disorder in question and the kind of us acute care solutions provided.
But while Acute Care is a part of Critical Care, it is evident that it is not limited to critical care only.
Preventive care as part of Critical Care:
For this, let us first understand the components of prevention in general: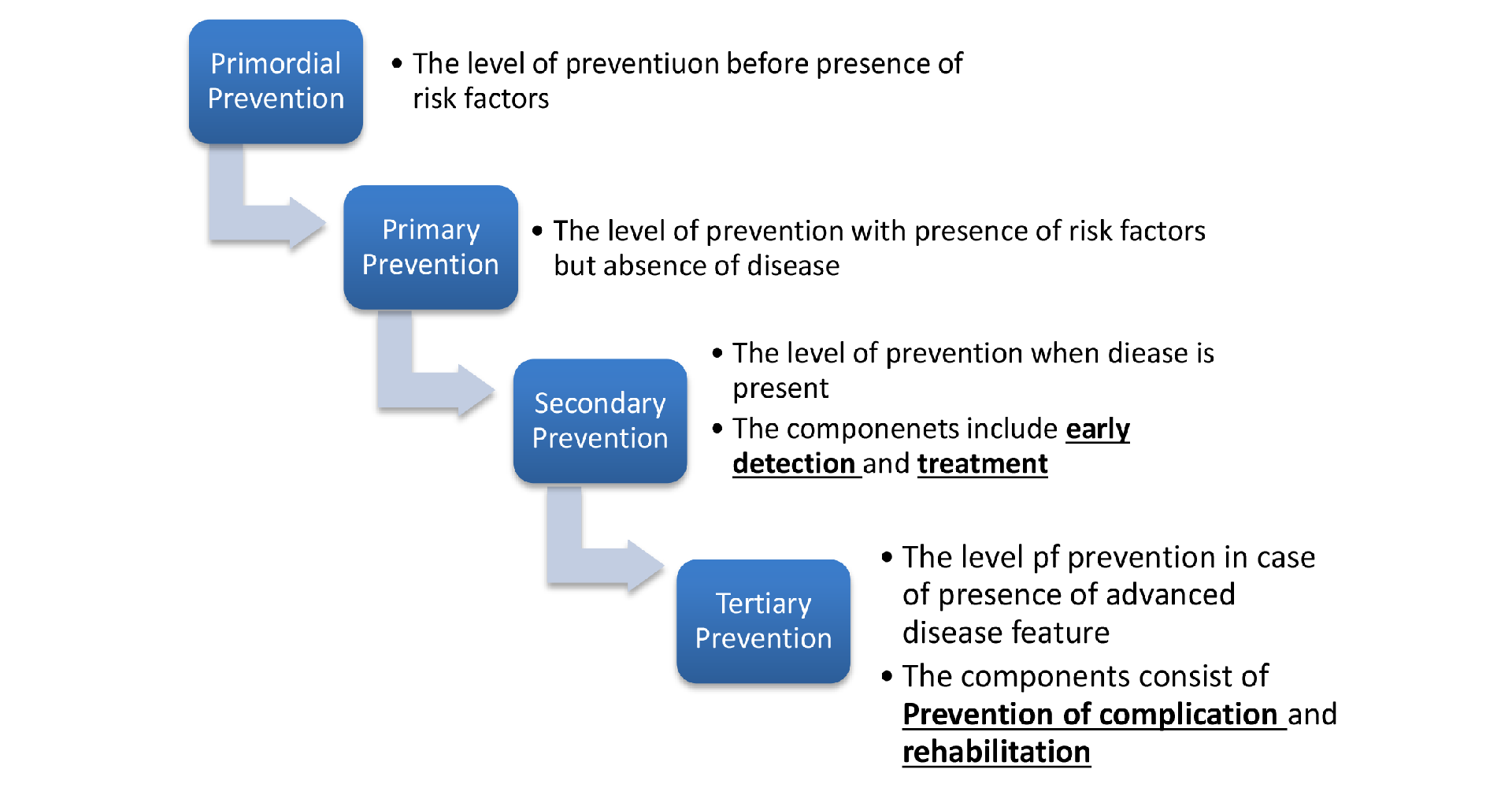 It is obvious to see that the patients admitted in a acute care hospital (i.e. those that fall in the group receiving critical care) are patients with either early onset or advanced diseases in most of the case, barring a few. Hence the components of preventive care we are taking into consideration here are
• Secondary prevention i.e. early detection and treatment (to prevent worsening or disease progression and recurrence)
• Tertiary Prevention i.e. prevention of complications and rehabilitation (to limit disability and improve lifestyle)
Hence the preventive component of Critical Care can be describes as: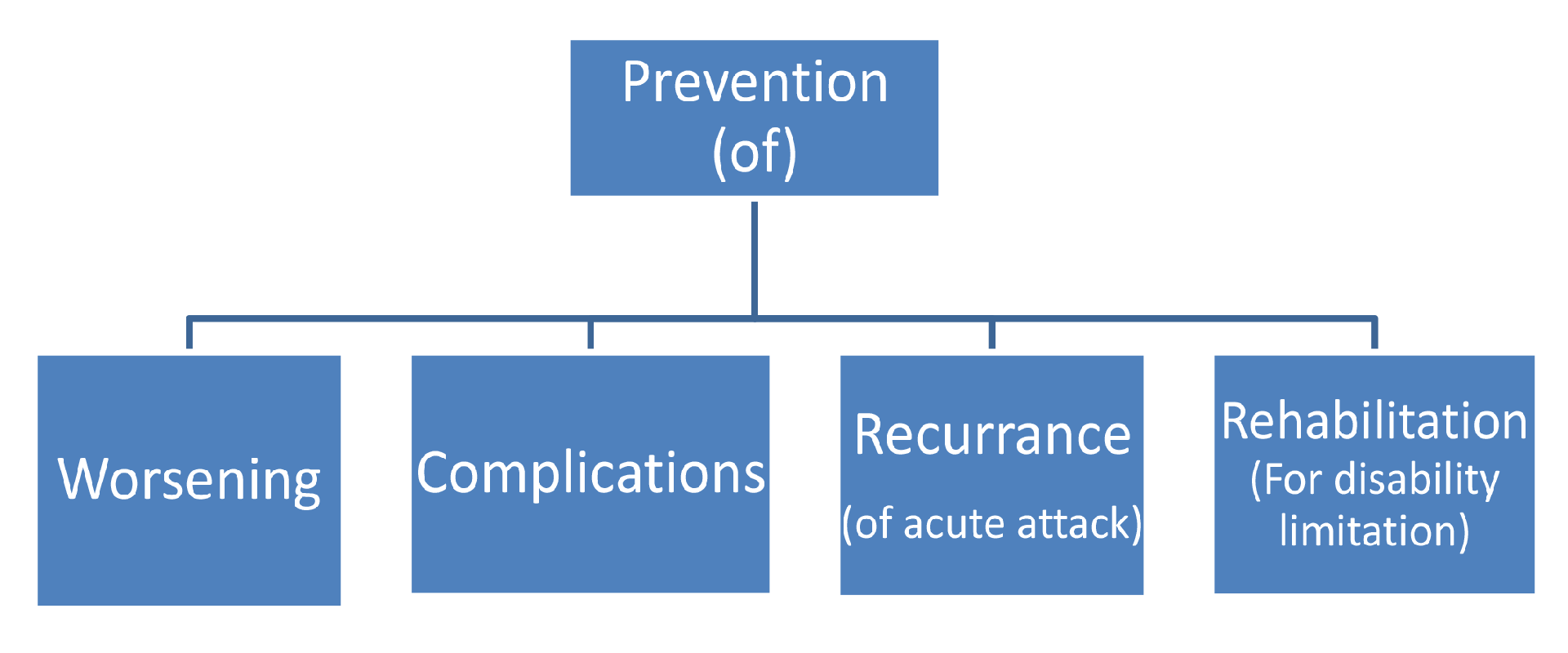 And thus, we come to the statement we started with:
Acute Care + Preventive Care = Critical Care
Critical Care, Critical Time,Critical Decision Heal the World make it better place

---
The Advance Heath Care Foundation NGO in association with Bellevue Clinic has been organizing an annual conference on Critical Care Medicine titled 'Critical Care, Critical Time, piramal critical care, dm critical care in india, pulmonary critical care, dnb critical care, critical care technology'. These three-day-long seminars include lectures, workshops and panel discussions by eminent doctors from all over the country as well as guest speaker and coordinators from the international medical fraternity. The aim: To bring together doctors and other medical personnel for various specializations under one roof for the purpose of integrated discussion on the subject of Critical Care. Since the first such seminar held on 2016, the organizers have gotten together to make this endeavor an annual one. The following are the highlights of the seminars held so far.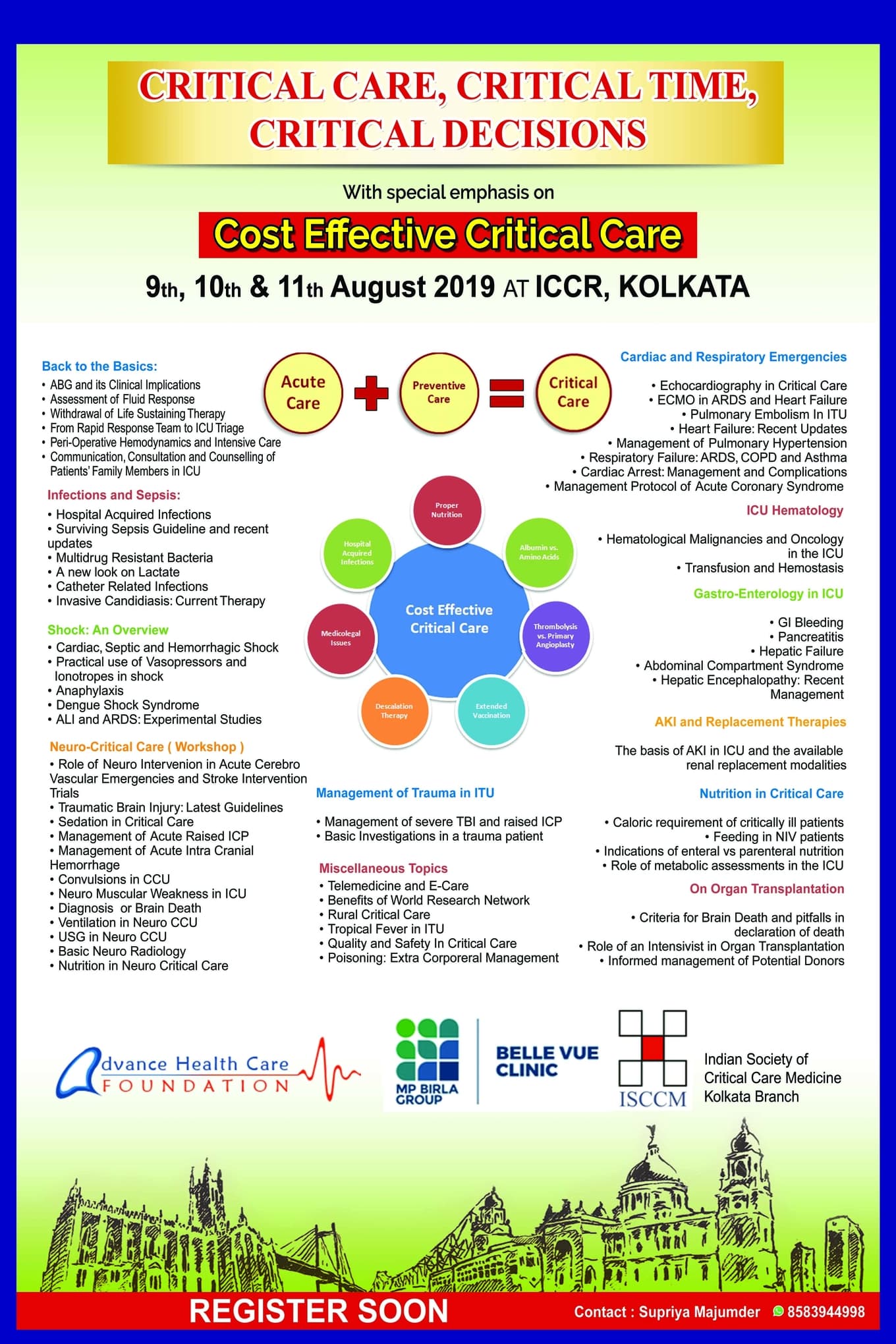 2016 | DATE: June 18-19

LOCATION: Golden Park, Kolkata
---
After registration from 8AM to 9AM, the day's activity started, initially with a Pleanery session,followed subsequently by workshop on various topics. The evening session included panel discussions and was concluded by the felicitation of the Senior doctors and a Cultural Program, thus ending by 7:30PM.
| Agenda Item | Discussion lead by: |
| --- | --- |
| Physiology of Venrilation | Dr. Partha Goswami |
| Optimizing Renal Replacement Therapy in Critically ill Patients | Dr. Pratim Sengupta |
| Hemodynamic Monitoring in Critical Care | Dr. Subhendu Sarkar |
| Pleanery Session | Chairperson: Dr. Roop Kishen |
Discussion Topic
Coordinators
Basic Modes of Ventilation:

• Maintaining Ventilation
• Liberation from Mechanical Ventilation
• Tracheotomy
• Difficult situation during Mechanical Ventilation

Dr. Pradipta Mukherjee
Dr. H. Christine
Dr. Partha Goswami
Dr. Ahsan Ahmed
Dr. Ashif
Dr. Sudhakshina Mallick

Renal Replacement Therapy

Dr. Pratim Sengupta
Dr. Lalit Agarwal
Dr. Roop Kishen

Hemodynamic Monitoring

Dr. Subhendu Sarkar
Dr. Suddhadeb Roy
The evening Session started from 5pm and the following are the highlights
• Panel Discussion on Organ Transplantation and How West Bengal can go Ahead
• Lecture on Evolution of Critical Care by Dr. Sagarmay Basu
• Lecture on Ethics in Intensive Care by Dr. Roop Kishen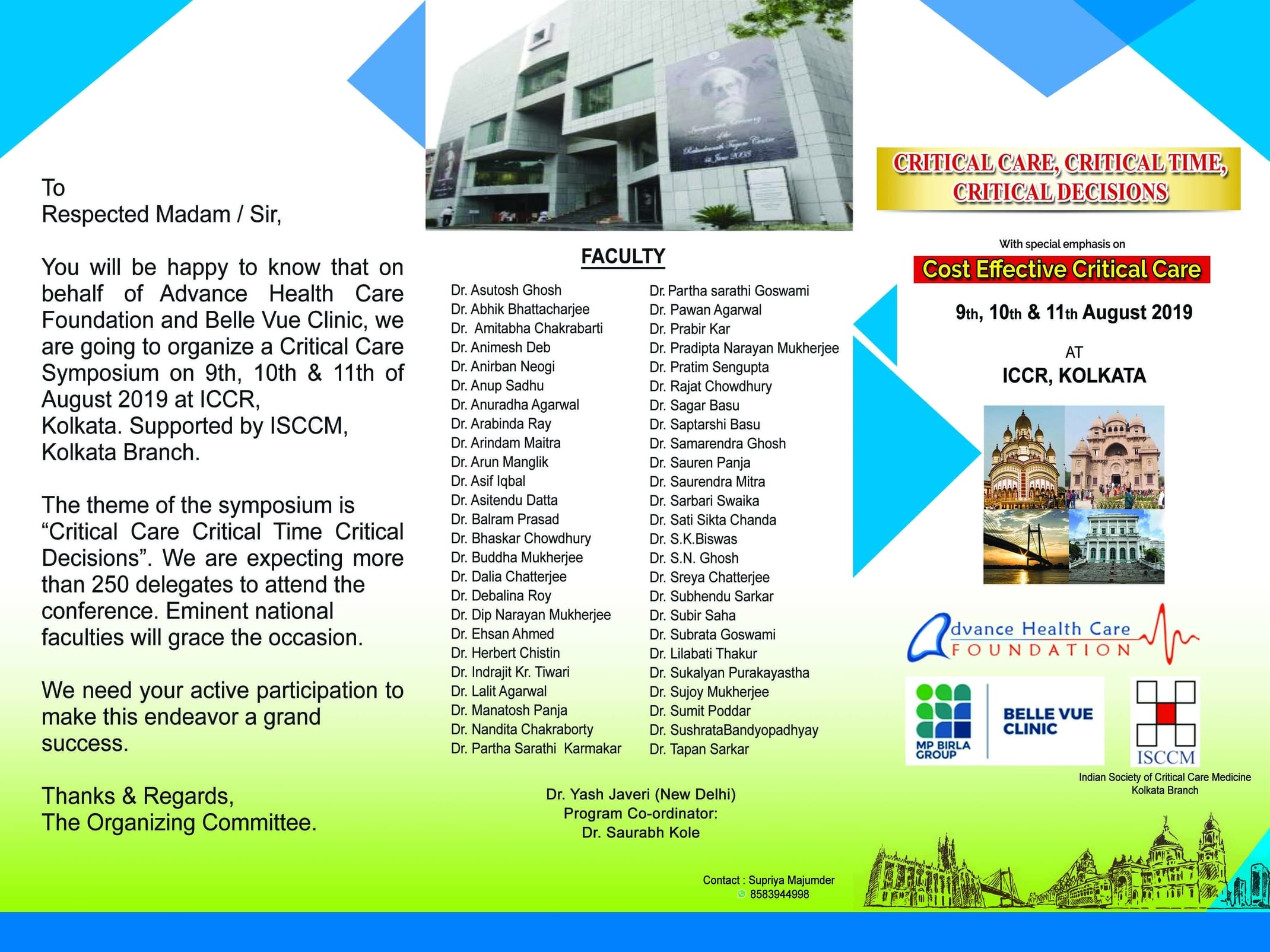 Day 2
The sessions of Day 2 began from 9:30AM and consisted of general discussions, Pleanary sessions and mainly lectures by eminent specialist Doctors on varied topics.
| Topic | Chairperson: Dr. Rahul Jain |
| --- | --- |
| Organization and Delivery of ICU Care | Dr. Subir Saha |
| Management of Acute Decompensated Heart Failure | Dr. Swapan Kr. Pal |
| Hyponatremia in ITU | Dr. Abhigayan Majhi |
| Diabetes in Critical Care | Chairperson: Dr. S.K. Gopalka, Dr. Rita Pal |
| --- | --- |
| Peri Operative Consideration in Longstanding Diabetic Patients | Dr. Subhendu Sarkar |
| Diabetic Emergencies in ITU | Dr. Sauren Panja |
| Glycemic Control in Critical Care Setting | Dr. Subhankar Chowdhury |
| Lectures of Morning Session | Chairperson: Dr. Sarbari Sawika |
| --- | --- |
| Cardiac Arrest: Prognosis and Outcome | Dr. Lilabati Thakur |
| Rural Critical Care | Dr. Ashutosh Ghosh |
| Ventilatory Management in ARDS | Dr. Pawan Agarwal |
| Antimicrobial Use in PKPD | Dr. Bhaskar Chowdhury |
| Pre Operative Intensive Care in Surgical Oncology | Dr. Sudakshina Mallick |
| Ultrasonography in the ICU | Dr. Sati Sikta |
| Pleanery Session | |
| --- | --- |
| Role of Neurointervention in Acute Cerebrovascular Emergency | Dr. Sukalyan Purakastha |
| Sepsis on the Cups of Cure | Dr. Yash Javeri |
| Fluid Therapy in ITU | Dr. Roop KIshen |
Lectures of the Afternoon Session
Nutrition in Critical Care
Dr. Tapan Sarkar
Management of Acute Kidney Injury
Dr. Lalit Agarwal
Management of Acute Pulmonary Embolism
Dr. Anirban Neogi
Pain Management in ITU
Dr. Subrata Goswami
Sedation in ITU
Dr. Krishna Poddar
Biomarkers in Acute Lung Injury
Dr. Partha Goswami
ABG and its Clinical Implications
Dr. Roop Kishen
Catherter Related Blood Stream Infection in ITU
Dr. Anuradha Agarwal
Disaster Management
Dr. Sumit Poddar
Use of Blood and Blood Related Products in ITU
Dr. Biplab Talukdar
Panel discussion on recent updates on sepsis
Moderated by Dr. Yash Javeri Panelists:→

Dr. Prasun Mitra
Dr. Sibabrata Banerjee
Dr. Sujoy Mukherjee
Dr. Rajat Chowdhury
Dr. Dip Narayan Mukherjee
Dr. Amitava Saha
2017 | DATE: August 4-6

LOCATION: ICCR, Kolkata
---
Day 1 started from 10AM onwards with the Workshop:
The topics for the scientific discussion and lectures included:
• Telemedicine and E-Critical Care
• Intensive Care in the next 20 years
• A Critical Role for Echocardiography
• Diabetes in Critical Care
• Bronchoscopy in ITU
• ECMO in ARDS and Heart Failure
• Assessment of Fluid Response
• Severe Dengue Fever- Role of Intensivist
• Intensive Candidiasis-Current Therapy
• ABG and its Clinical Implications
• Catheter Related Infections
• Antimicrobial use and PKPD
• Peri Operative Intensive Care
• Optimization of Nutrition Practices
• ALI and ARDS: Experimental Studies
• Transfusion and Hemostasis
• Multi-Drug Resistant Bacteria
• Surviving Sepsis Guideline
• Practical Use of Vasopressors and Ionotrops in Shock
• A new Look on Lactate
• Cardiac Shock, Septic Shock and Hemorrhagic Shock
• Cardiac Arrest: Management and Complications
• Hospital Acquired Infections
• Renal Replacement Therapy
• Peri Operative Hemodynamics
• Acute Coronary Syndrome and Heart Failure
• From Rapid Response Team to ICU Triage
• Stroke
• Traumatic Brain Injury
• Sedation in Critically Ill
• Hematological Malignancies and Oncology in The ICU
• Benefits of World Research Network
• Organ Transplantation: Role of Intensivists
• Withdrawal of Life Sustaining Therapy
• Medico-Legal Issues in Critical Care
Workshop || Coordinator: Dr. Saurabh Kole

Topic
Convener
Ventilation

Dr. Partha Goswami
Dr. Pradipta Mukherjee
Dr. H. Christine

Imaging and Critical Care

Dr. Nandita Chakraborty
Dr. Abhik Bhatterjee
Dr. Debalina Roy
The topics of discussion and Conveners on the Days 2 and 3 are as follows:

Topic
Convener
Rural Critical Care

Prof. Ashutosh Ghosh
Dr. Rajat Chowdhury

Pulmonary Critical Care Medicine

Dr. Anirban Neogi
Dr. Pawan Agarwal

Cardiac Critical Care

Dr. Tapan Sarkar
Dr. Eshan Ahmed

Neuro Critical Care

Prof. S.N. Ghosh
Dr. S.K. Biswas
Dr. Sukalyan Purakayastha
2018 | DATE: August 3-5

LOCATION: ICCR, Kolkata
---
Topics of Scientific Discussion:

1. GOLDEN HOUR IN CRITICAL CARE
2. RURAL CRITICAL CARE
3. TELEMEDICINE & E-CRITICAL CARE
4. A CRITICAL ROLE FOR ECHOCARDIOGRAPHY
5. DIABETES IN CRITICAL CARE
6. ANAPHYLAXIS
7. TROPICAL FEVER IN ITU
8. ASSESSMENT OF FLUID RESPONSE
9. INTENSIVE CANDIDIASIS – CURRENT THERAPY
10. ABG AND ITS CLINICAL IMPLICATIONS
11. CATHETER-RELATED INFECTIONS
12. ANTIMICROBIAL USE AND PKPD
13. ALI &ARDS: EXPERIMENTAL STUDIES
14. TRANSFUSION & HAEMOSTASIS
15. MULTI-DRUG RESISTANT BACTERIA
16. SURVIVING SEPSIS GUIDELINE
17. A NEW LOOK ON LACTATE.
18. CARDIAC ARREST: MANAGEMENT & COMPLICATIONS
19. HOSPITAL-ACQUIRED INFECTIONS
20. RENAL REPLACEMENT THERAPY
21. SEDATION IN CRITICALLY ILL
22. HAEMATOLOGICAL MALIGNANCIES & ONCOLOGY IN THE ICU
23. BENEFITS OF WORLD RESEARCH NETWORK
24. ORGAN TRANSPLANTATION – ROLE OF INTENSIVIST
25. WITHDRAWAL OF LIFE SUSTAINING THERAPY
26. MEDICO LEGAL ISSUES IN CRITICALCARE.
27. HEART FAILURE
28. NUTRITION IN CRITICAL CARE
29. PULMONARY EMBOLISM
30. QUALITY AND SAFETY IN CRITICAL CARE
31. PATIENT PARTY CONSENT AND CONSULTATION…..TO WHAT EXTENT(IN ITU)
WORKSHOP: NEURO CRITICAL CARE including topics like:
• Management of Acutely raised Intra Cranial Pressure
• Medical Management of Acute Sub Arachnoid Hemorrhage
• Acute Management of Intra Cranial Hemorrhage
• Nutrition in Neuro Critical Care
• Diagnosis of Brain Death
• Stroke Intervention Trials
• Traumatic Brain Injury: Latest Guidelines
• Ventilation in Neuro Critical Care Unit
• Ultrasound in Neuro Critical Care Unit
• Basic Neuro Radiology
• Convulsions in Neuro Critical Care Unit
• Neuromuscular Weakness in ICU
FACULTY:

• Dr. Asutosh Ghosh
• Dr. Amita Acharjee (Pahari)
• Dr. Amitabha Chakrabarti
• Dr. Amitava Das
• Dr. Amitayu Nandi
• Dr. Animesh Deb
• Dr. Anirban Neogi
• Dr. Anup Sadhu
• Dr. Arabinda Ray
• Dr. Arindam Maitra
• Dr. Arun Manglik
• Dr. Asif Iqbal
• Dr. Asitendu Datta
• Dr. Balram Prasad
• Dr. Buddha Mukherjee
• Dr. Chandrashis Chakrabarty
• Dr. Dalia Chatterjee
• Dr. Debkishore Gupta
• Dr. Dip Mukherjee
• Dr. Ehsan Ahmed
• Dr. Herbert Chistin
• Dr. Indrajit Kr. Tiwari
• Dr. Jayanta Sharma
• Dr. Krishnendu Mukherjee
• Dr. Lalit Agarwal
• Dr. Mahesh Goenka
• Dr. Manatosh Panja
• Dr. Partha Karmakar
• Dr. Parthasarathi Goswami
• Dr. P.K. Harzra
• Dr. Prabir Kar
• Dr. Pradipta Narayan Mukherjee
• Dr. Pratim Sengupta
• Dr. Pravin Jadav
• Dr. Prosenjit Sarkar
• Dr. Radheyshyam Joshi
• Dr. Rahul Jain
• Dr. Rita Pal
• Dr. Sadhan Ray
• Dr. Sagar Basu
• Dr. Saptarshi Basu
• Dr. Samarendra Ghosh
• Dr. Sauren Panja
• Dr. Saurendra Mitra
• Dr. Saibal Chakraborty
• Dr. Sandeep Chaterjee
• Dr. Santanu Das
• Dr. Sarbari Swaika
• Dr. Sasanka Saha
• Dr. S.K.Biswas
• Dr. Sreya Chatterjee
• Dr. Subir Saha
• Dr. Subrata Goswami
• Dr. Subrata Ray
• Dr. Sudakshina Mullick
• Dr. Sumit Poddar
• Dr. Sushrata Bandyopadhyay
• Dr. Sukalyan Purokayasta
• Dr. Tapan Sarkar
• Dr. Udas Ghosh
• Dr. Vijay Kejariwal
• Dr. Yash Javeri(New Delhi)